Meeting-discussion on EITI Systematic Data Disclosure Feasibility Study of took place. Mauritania's experience was presented
03.10.19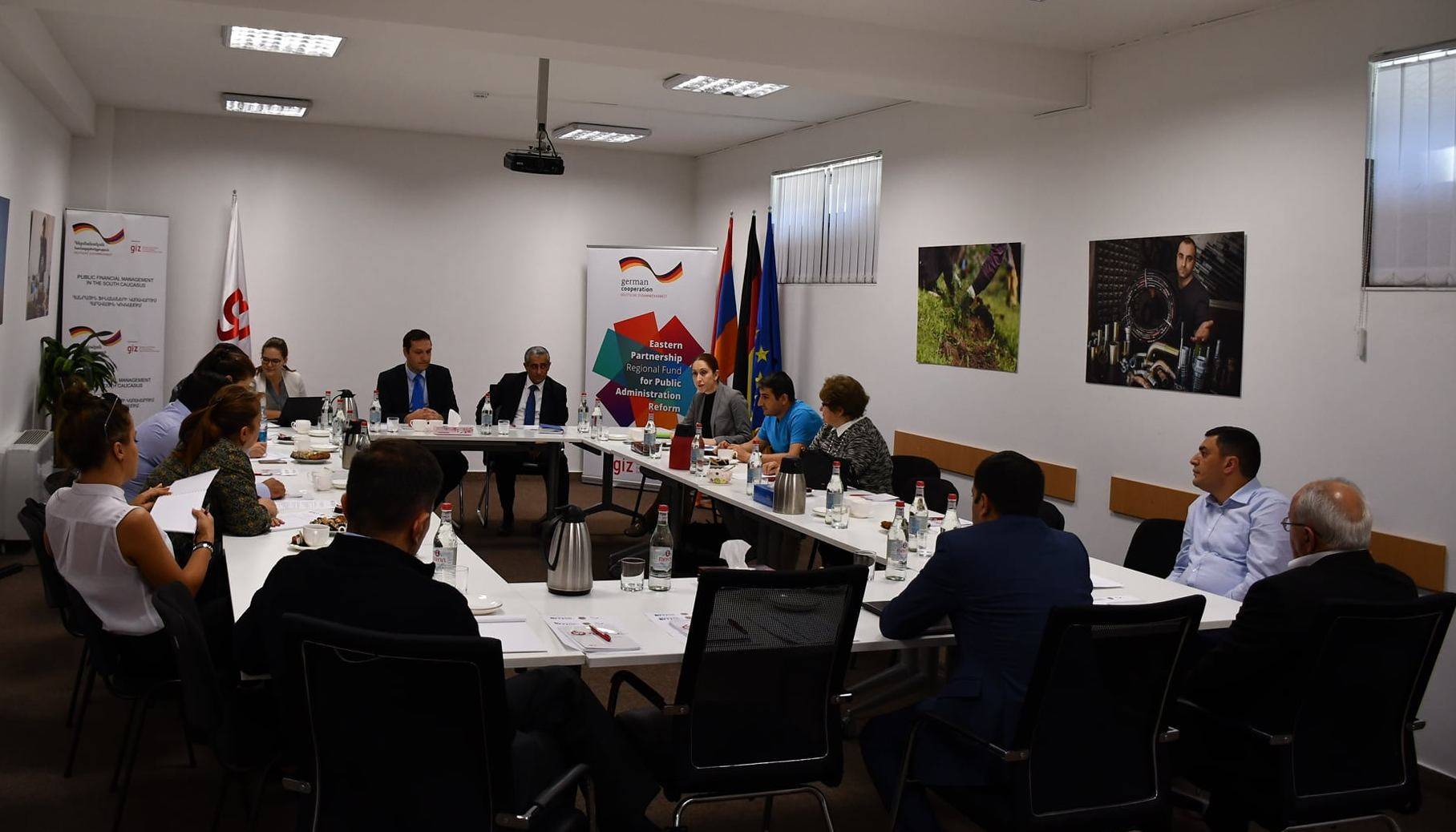 A meeting-discussion on the feasibility study of systematic data disclosure (mainstreaming) of the Extractive Industries Transparency Initiative (EITI) of the Republic of Armenia took place at the office of the German International Cooperation Company (GIZ) on 2 October.
The purpose of the project is to conduct an EITI Systematic Data Disclosure (mainstreaming) Feasibility Study in Armenia to evaluate the opportunities and necessary measures for EITI systematic data disclosure through routine government and corporate reporting systems. Systematic disclosure of data will enable access to timely information, increase accountability and public oversight, and reduce corruption risks.
Coordinating the EITI mainstreaming implementation in Mauritania, Sophie Girke, Technical Advisor for the "Programme for Strengthening Decentralization and Public Finance (ProDeF)" of the German International Cooperation (GIZ), shared Mauritania's experience of systematic disclosure of EITI data, presenting step-by-step guide to data disclosure, from legislative changes to access to information on the site.
Highlighting the systematic disclosure of EITI's data, she noted that the mainstreaming process enables EITI Mauritania to manage both its financial and human resources more freely by undertaking actions whose impact will be immediately noticeable, which in turn will increase the visibility and credibility of its work.
Lusine Tovmasyan, Head of the RA EITI Secretariat, presented the Terms of Reference for the EITI Systematic Disclosure (mainstreaming) Feasibility Study at the meeting .
This was the first consultation between the consultant and the members of the EITI Multi-stakeholder Group (MSG) and the representatives stakeholder government bodies on the issues of study and the action plan. Meeting participants discussed data available on the official websites of government bodies, as well as the work to be done in the near future was mapped.
The study was organized within the framework of the project "Support the implementation of the Global Extractive Industries Transparency Initiative (EITI) in Armenia, Georgia and Ukraine" implemented by German Development Cooperation via Deutsche Gesellschaft für Internationale Zusammenarbeit (GIZ). The project is implemented under the umbrella of the GIZ Eastern Partnership Regional Fund for Public Administration Reform, on behalf of the German Government.