Training on EITI and Responsible Mining
30.06.20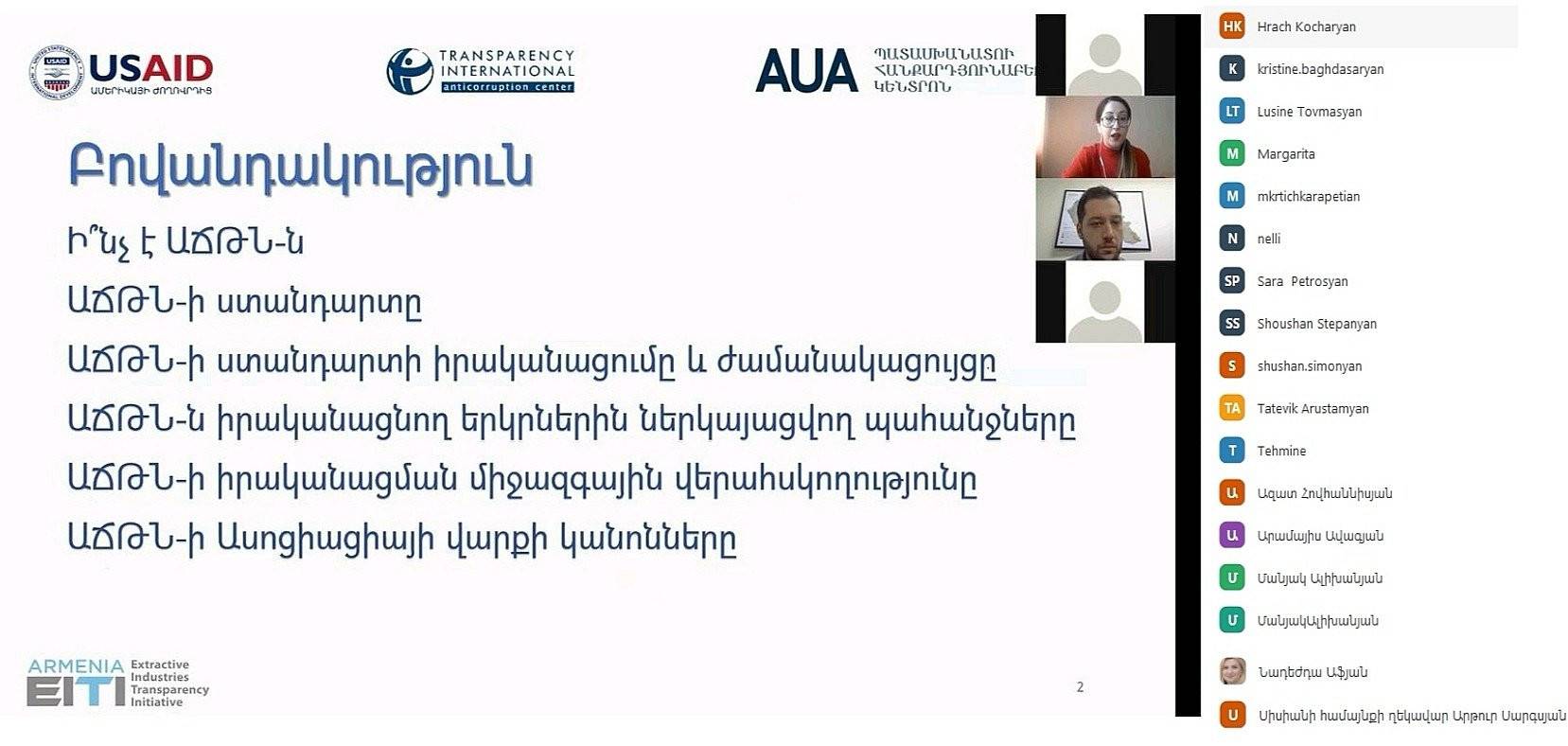 On May 25 to June 2, 2020, the American University of Armenia (AUA) Center for Responsible Mining conducted five-day online training sessions on the Extractive Industries Transparency Initiative (EITI) Standard and responsible mining.
Over 40 participants attended the training sessions, including stakeholders from the government, local communities, NGOs, youth organizations, and the media. The training was led by Lusine Tovmasyan, Head of the EITI Armenia Secretariat, Harutyun Movsisyan, ex-member of MSG Armenia and Media Specialist Nelli Rafayelyan. The training discussed the EITI Standard, the role of the EITI Multi-Stakeholder Group and media communications on EITI. The training also covered the basic principles of responsible mining. A series of videos on the topics of EITI and responsible mining had been developed for the training.
"The e-learning course is in Armenian and allows participants to ask questions directly to the trainers and take a quiz to test their knowledge," explains Dr. Alexander Arakelyan, manager of the ITAMPSE project at the Center.
"These online trainings also serve to grow the EITI-engaged community in Armenia," says Lusine Tovmasyan.
The training materials are available here. Also the training videos will help the MSG members and the interested parties to update their knowledge about EITI, the published data and the Armenian process of EITI implementation.
The AUA Center for Responsible Mining's ITAMPSE project is funded by the Transparency International Anti-Corruption Center from its USAID-funded grant on "Engaged Citizenry for Responsible Governance."